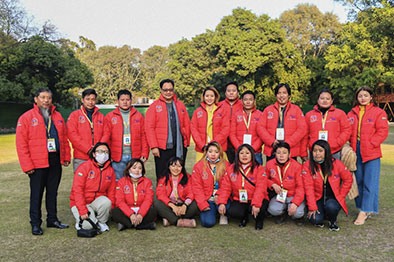 LEH, 31 Jan: The first Arunachal-Ladakh Friendship Car Rally organized by International Friendship Car Rally Association (IFCRA) in collaboration with Miss Arunachal Organization and Ladakh Adventure Sports concluded here in Ladakh on Saturday.
The event was organized with the motive of strengthening the relationship between Union Territory Ladakh and Arunachal through such joint venture.
The three-day rally was flagged off by reigning Miss Arunachal Tokmem Mengu and Ladakh Autonomous Hill Development Council, Leh Chief Executive Councilor (CEC) Tashi Gyalsan from NDS Stadium here on 28 January.
Thereafter, the rally moved to Kargil district, covering 456 km, where the rallyist and the officials were received by the Kargil DC and SP. The rally returned to Leh on 30 January.
Earlier, speaking during the inauguration, CEC Gyalsan lauded the IFCRA for organizing the event despite the harsh and cold climatic conditions of Ladakh. He hoped the event will strengthen the bond between the people of Arunachal and Ladakh.
Additional Private Secretary to MoS for Youth Affairs and Sports, Komjum Riba called for building a stronger relationship and culture exchange between the people of Arunachal and Ladakh.
Present on the occasion, among others, were executive councilor for Rural department Tashi Namgyal Yakzee, executive councilor for agriculture Stanzin Chosphel, sports director, GoAP Tadar Appa, Miss Arunachal Organization managing director Tai Roket, actress Taba Reema and the team from Arunachal Pradesh.
The event was sponsored by the Ministry of Sports Youth Affairs and the department of youth affairs, GoAP.