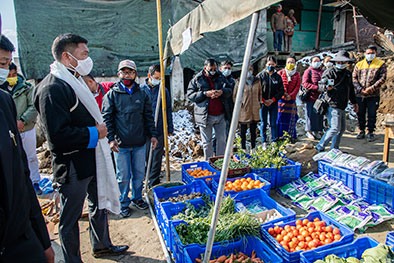 TAWANG, 8 Feb: Chief Minister Pema Khandu inaugurated a weekly market in Woogpa-Latse here this past Sunday.
"The weekly market, which will be open every Sunday, will provide a space for the local farmers, artisans, craftsmen and traders to sell their products and farm produce," said the CM.
He said the weekly market would benefit the farmers "and help in the revival of traditional crops and the system of agriculture, as well."
He promised to fund the construction of a market shed with transparent sheets.
More than 50 farmers, craftsmen and artisans had their stalls opened. The APMC and the textiles & handicrafts department also opened their stalls in the weekly market.
MLA Jambey Tashi was also present at the inauguration. (CM's PR Cell)