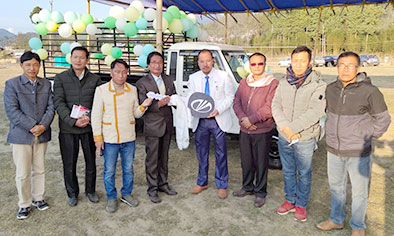 [ Gyati Kacho ]
ZIRO, 8 Feb: The Hari Employees and Pensioner's Welfare Association (HEPWA) has called for a clean and green Ziro, starting from Hari village, to be followed by other villages and the twin townships of Hapoli and Old Ziro.
The clarion call was made on 7 February during the 5th foundation day celebration of the HEPWA in Hari village. The programme was attended by a large gathering, consisting of employees from Hari village, pensioners, village elders, gaon burahs and gaon buris.
The HEPWA is a conglomeration of employees and pensioners of Hari village in Lower Subansiri district, which is rated as the most literate village, having produced numerous IAS and other officers.
Addressing the function, 14th Hari ZPM Hage Dolo, who earlier donated a Mahindra Bolero pickup truck to the HEPWA, said, "Cleanliness is next to godliness, and I am sure my small effort to keep our surroundings clean by disposing of the garbage in the right place will also be emulated by other villages of Ziro."
The new garbage pickup truck will pick up garbage from every household every weekend and work in tandem with the urban development department's pick up vans.
Echoing the call for cleanliness, 15th Hari ZPM Tasso Tana appealed to the residents to develop a civic sense and not litter their surroundings.
"In a few years' time, after the Itanagar-Ziro highway is completed, tourists are likely to flock to Ziro, and it is surely going to be a tourist hub. Hence, I appeal to all our denizens to keep our place neat and clean while also saving ourselves from diseases and sicknesses," he said.
Tanw Supung Dukung president Hage Tado, HEPWA president Gyati Tajang, and many other eminent personalities spoke on various developmental aspects of Hari village and Ziro as a whole. The occasion was also marked by felicitation of pensioners and students of Hari who achieved academic excellence.