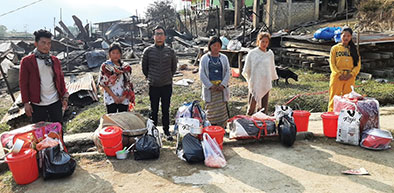 KOLORIANG, 8 Feb: One Bengia Gaik was killed in a fire accident that broke out in the wee hours of 7 February here in Kurung Kumey district.
Five houses were also gutted.
The fire reportedly started at around midnight of 6 February.
The fire brigade sprung into action and was able to bring the fire under control by early morning.
The DC, along with a medical team and police personnel conducted a prima facie survey of the accident site to ascertain the cause of the fire. The cause of the fire is yet to be ascertained.
The district administration provided immediate relief materials, food items and cash to the fire victims.
Interacting with the local residents, Koloriang ADC Nighee Bengia grieved the loss of the deceased and advised the local populace to be extremely careful to avert such fire mishaps in the future.