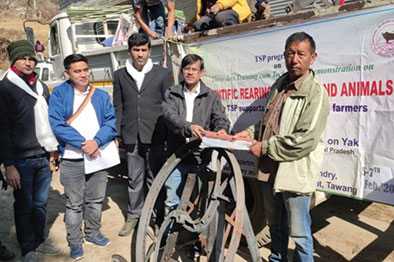 KITPI, 8 Feb: Fifty yak/yak-cattle hybrid farmers from Kitpi and nearby villages participated in a three-day training programme on scientific rearing of highland animals, conducted by Dirang (West Kameng)-based National Research Centre on Yak (NRCY) at Kitpi village in Tawang district from 5-7 February.
Over the course of the three days, while Senior Veterinary Officer Dr Sang Khandu spoke on scientific rearing of highland animals, NRCY principal scientist Dr D Medhi presented a brief on scientific breeding, feeding and housing management vis-à-vis highland animals.
NRCY scientist Dr SS Choudhary dwelt on hygienic maintenance aspects for clean milk production and value addition, and NRCY Senior Technical Officer Dr M Hussain delivered a talk on the reproductive and health management aspects of highland animals.
The farmers were later provided with concentrate feed, common salt, calcium preparations and basic veterinary medicines.
Jang Senior Veterinary Officer Dr Thopten Tashi also spoke.