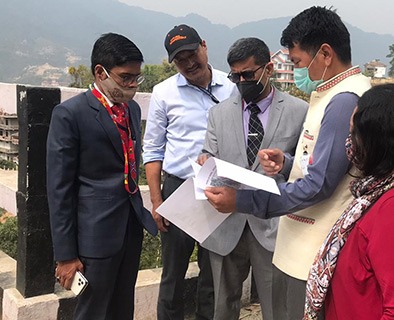 ITANAGAR, 24 Feb: The National Disaster Management Authority's (NDMA) senior consultant (NE), Dr Suhel Akhtar, along with Manipur's State Academy of Training Deputy Chairperson Tazeem Abbas Rizvi is on a two-day visit to Arunachal from Wednesday.
Dr Akhtar, who has come to monitor and review the status of various NDMA projects and programmes undertaken in the state, met Chief Secretary Naresh Kumar, Disaster Management (DM) Secretary Dani Sulu, and DM Director Atul Tayeng on Wednesday and took stock of the progress of all the NDMA-sponsored projects, completed and ongoing, in the state. He also discussed the requirement for further projects and programmes specific to the state.
Longding-Pumao MLA Tanpho Wangnaw, who is also the advisor to the DM minister, called on the senior consultant to discuss ways to make the state disaster resilient.
Dr Akhtar also inspected various restoration and repair works being undertaken in the Itanagar capital region and the Yupia-Doimukh area.
He was impressed with the works done in ESS Sector (protection wall at block point), restoration and realignment of damaged pipelines in Niti Vihar, the dedicated Covid hospital in Midpu, and the road repair works at the RGU trijunction and the Gumto-JNV road.
The team is scheduled to visit and inspect NDMA projects in Pasighat and Tezu next.