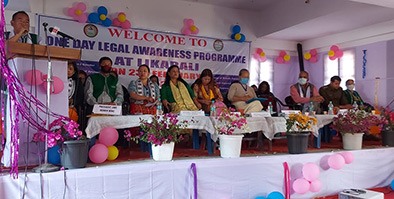 LIKABALI, 24 Feb: Stating that drug abuse and alcoholism have emerged as major issues in the modern-day society, local MLA Kardo Nyicyor urged women to be very vigilant about what their children are doing.
"Parental care is the only measure to check the menace," he said, addressing a large gathering of public during a legal awareness meeting conducted by the Arunachal Pradesh State Commission for Women (APSCW), in coordination with the Galo Welfare Society Women's Wing here in Lower Siang district on Tuesday.
Deputy Commissioner AK Singh commended the APSCW for organizing the programme, which he said would go a long way in improving the status and quality of life of the women of Lower Siang.
Singh informed that he and his MVP team through the Malinithan Vikash Parishad have constructed 25 rooms within the temple complex, where 25 women have been allotted rooms to run shops.
"This step, though small, will certainly improve the life of women in the days to come," he said, adding that many SHGs have been formed through the State Rural Livelihood Mission. He directed all the HoDs to dovetail the scheme to empower the women.
APSCW Vice Chairperson Heyomai Towsik acknowledged the support extended by the district administration in conducting the weeklong awareness programme. Towsik also thanked the APWWS branches and the women's wing of the GWS for their hard work to ensure successful conduct of the legal awareness programme.
During the daylong programme, former APSCW chairperson Jarjum Ete, TRIHMS gynaecologist Dr Todak Taba, Karmu Chotten and Mabi Taipodia Jini sensitized the women to issues like marriage complicacies, women empowerment, gender budgeting, and health and legal issues. (DIPRO)