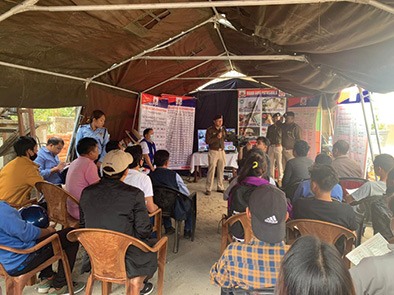 Staff Reporter
ITANAGAR, 15 Mar: Scores of Motor Vehicles Act (MVA) violators were forced to sit in a roadside pathshala (school) to learn about traffic rules and road safety, instead of being penalized for violating traffic rules along NH 415 near Nyokum Lapang here on Monday.
The 'roadside pathshala' is an initiative of the capital traffic police headed by Itanagar Capital Region (ICR) SP Jimmy Chiram to create traffic awareness.
The team comprised Itanagar SDPO Kamdam Sikom, Inspector KB Chetry, Inspector Maga Novin, SI Neeraj Nishant, SI SS Jha, Head Constable SS Jha, Sunny S, Constable Suraj Singh, Constable Taba Vikash, Tem Mepung, Monika Chiring, and others.
Taking part in the awareness drive, ICR DC Komkar Dulom appealed to the defaulters to obey the traffic and MV rules to avoid road mishaps.
"Since the road is improving, it is quite natural that there would be lots of speeding cars and bikes driving around. You need to be very careful, especially while driving at night," said the DC, and appealed to the youths and others to wear helmets/seat belts while riding/driving.
The DC stated that youths often break the traffic rules without realizing it.
"When the rules say you have to wear a helmet and should not mix drink with driving, you must obey for your own safety and the safety of others too," Dulom said.
Interacting with the MVA violators, Chiram said, "Road pathshala is being initiated to bring driving discipline through awareness among the people in the capital." The SP added that the violators would be briefed on the various penalties and the fatality rate involving road mishaps, "so that they realize that violating traffic rules is a cognizable and punishable offence."
The SP informed that from 2016 to 2020, more than 634 deaths in road mishaps were recorded across the state, whereas 1,597 were injured, 869 sustained grievous injuries, and 605 sustained minor injuries.
"These are multifarious activities; we are not doing only one type of awareness. There are various aspects of road safety and traffic rules and regulations," Chiram added.