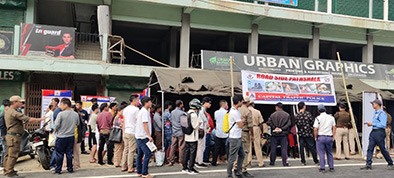 Staff Reporter
ITANAGAR, 16 Mar: In continuation of their traffic awareness campaign, the capital police on Tuesday forced 325 traffic violators to sit in a 'roadside pathshala' to learn the traffic rules.
The camp was pitched along NH 415 near Hibro Motors at D Sector, Itanagar.
Apprising the violators of the traffic rules, Itanagar SDPO Kamdam Sikom informed that the twin capital towns have witnessed the highest fatality rates over the years. He urged the violators to adhere to the traffic rules for their own safety and the safety of others.
He also dwelt on various sections of cognizable offences under the Motor Vehicles Act and urged the violators to avoid ignoring the traffic rules.