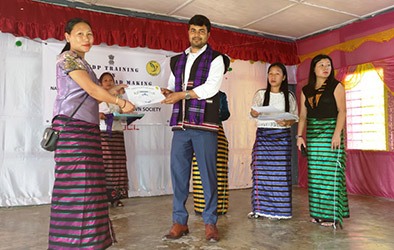 CHANGLANG, 6 Apr: Changlang Deputy Commissioner Dr Devansh Yadav said that the district administration will purchase sanitary pads produced by the self-help groups (SHGs) of the district.
Attending the valedictory function of a sanitary pad making training at Old Changlang village here on Tuesday, Yadav said, "Every girl student gets Rs 300 per year under the state government's health and hygiene scheme and the district administration will purchase sanitary napkins under this scheme."
"This will not only be helpful to the adolescent girl students but also provide the SHGs a business opportunity," the DC said.
He purchased 2000 sanitary pads for distribution among his office staffers and employees of various other departments.
Thirty members of different SHGs, promoted by NERCORMP, underwent the NABARD-sponsored training under the Micro Enterprise Development Programme.
NABARD DDM Kamal Roy highlighted the various schemes and projects of NABARD undergoing in the district for the welfare of the SHGs and farmers.
He stated that enabling SHG members to take up income generating activity for livelihood involves intensive training and hand-holding on various aspects, including understanding market, potential mapping and ultimately fine-tuning skills and entrepreneurship to manage the enterprise.
He advised the SHGs to use the Rural Mart which was supported by the NABARD to Arin Aran SHG at Changlang as marketing platform.
NGO Green Lawn Society chairperson Marina Kenglang said the main objective of the training was to skill rural women in sanitary pad making for micro enterprise development.
SBI Lead District Manager Tankeswar Doley assured the bank's support for SHGs for credit linkage.
NERCORMP DPD N Sukajit suggested that the SHGs develop a brand name as a marketing strategy and charge a lower price initially with minimum profit in order to occupy a place in the market.
Certificates were provided to all the SHG members, who underwent the training.