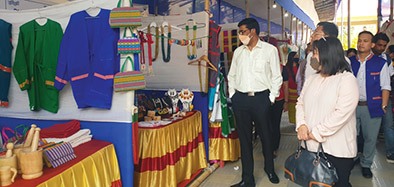 ITANAGAR, 6 Apr: The Secretary (Handloom & Handicraft) Swapnil M Naik on Monday inaugurated the handloom and handicraft national expo 2021 here at the DK convention centre campus amidst huge gathering.
The expo will continue till 12 April. The national expo is being organized by the Arunachal Pradesh Handloom & Handicraft Development Society (APHHDS) and sponsored by development commissioner, Handloom, Ministry of Textile, Government of India.
Several local craft and handloom items, including handicraft and local made items are being displayed.
All total 41 organisations and individuals from Assam, Nagaland and different parts of the state are taking part in the expo.
Speaking on the occasion, Secretary Naik said the expo is an opportunity for the local artisans to showcase their art and craft so that the local traditional items get equal opportunity in the local market.
Referring to the loss caused to the artisans due to fire accident at the handloom emporium at Bank Tinali a few years back, the secretary informed that "the relief by the disaster management department is meagre" so a proposal was prepared to support the victims, which is under consideration of the state government.