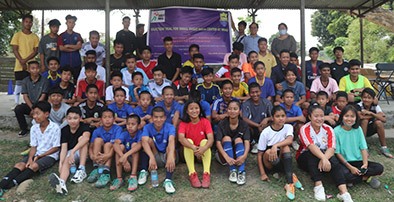 MIAO, 7 Apr: The Sports Authority of India has decided to start a small Khelo India Centre at the Miao Sports Complex in Changlang district for badminton, weightlifting and football.
The Khelo India is a Government of India's flagship programme for development of sports at grass-root level.
The district level selection trials for inducting players in the three disciplines were held at the State Sports Academy and general ground here, where aspirants from Miao, Kharsang, Namphai I and Namphai II and others participated.
The trials were highly competitive and attracted some of the best talents from across Miao circle. Aspirants were tested on their performance in various skills.
Football was the main attraction where more than 81 aspirants participated in various age groups, for which another round of selection is scheduled on 9th April.
Badminton saw 25 and weightlifting had 13 participants.
Altogether, 30 players will be selected per discipline and free training will be provided to them for at least three years.
The initiative of the Directorate of Sports was supported by the local administration.
Speaking on the occasion, UD Minister Kamlung Mossang said, "It has been endeavour of our government to support sports at grass-root level and make Arunachal a sporting hub. It will be our constant effort to bring our best talents and shape them to be professional players."
He also expressed his gratitude towards Union Minister of Youth Affairs and Sports Kiren Rijiju and State Sports Minister Mama Natung for selecting Miao as one of the Small Level Khelo India Centre.
Miao ADC Sunny Singh was also present at the selection trials.