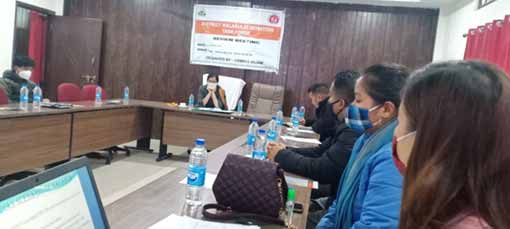 HAWAI, 20 Apr: Anjaw DC Ayushi Sudan advocated inter-departmental coordination and urged NGOs to come up with ideas and innovations "to improve heath seeking behaviour of the community, so that early diagnosis and prompt treatment could be initiated."
Addressing a district task force review meeting on malaria elimination here on Tuesday, the DC also stressed on constant vigil by all to ensure that no pits are left open or the drainage channels blocked to encourage breeding sites for mosquitoes.
She cautioned that "any lackadaisical attitude shall not be tolerated if the reemergence of local/indigenous malaria is reported following complacency."
Earlier, NVBDCP District Programme Officer Dr S Tayang presented the data required to verify the epidemiology of malaria in the district. He said that, "over the years, under the National Vector Borne Disease Control Programme (NVBDCP), we have worked on malaria control and prevention strategies which resulted in reduction of cases not only in our district but Arunachal as a whole."
Dr Tayang informed that in the last three years there has been not a single case of malaria of indigenous origin, "which is well ahead of our own set target of achieving malaria-free district status by 2023, as per the strategic plan developed in 2018."
During the course of the meeting, the strengths, weaknesses, opportunities and threats were discussed to strengthen the surveillance system to ensure that no indigenous/local transmission takes place.