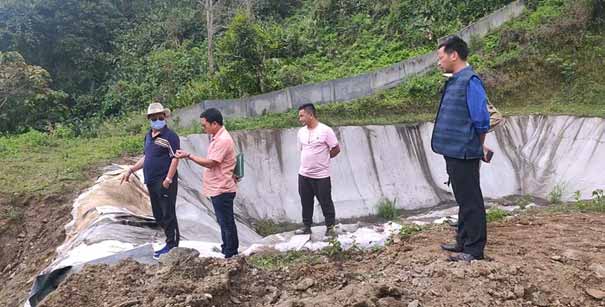 [Karda Natam]
DAPORIJO, 20 Apr: MLA Taniya Soki urged the residents here in Upper Subansiri district to develop civic sense and make cleanliness a way of life.
Soki, accompanied by a team of officials from the urban development (UD) department on Saturday inspected the under-construction solid waste management project at Riddi village in Dumporijo constituency.
"When it is completed, the problem of solid waste disposal and management will be solved," the MLA said. The project is expected to be completed within a few months, he added.
The MLA said that people litter the township by throwing garbage indiscriminately due to lack of awareness. He appealed to the people to cooperate with the UD department in keeping the town and its surroundings clean by taking the garbage to the garbage collection vehicles on time.
He said the door-to-door garbage collection vehicles start picking garbage from 7 am from every colony.
The garbage collectors have alleged that most of the residents do not come at the time of arrival of the vehicles and later they dump the waste materials on the roadside or on the road.