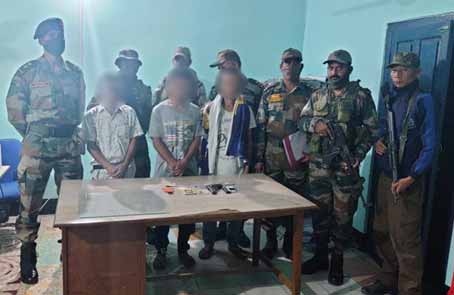 [Pisi Zauing]
KHARSANG, 21 Apr: A cadre of the NSCN (R), identified as Self Styled Private Khonkham Memai was apprehended by the Indian Army near Longtom village under Kharsang circle of Changlang district  on Tuesday.
Security forces also recovered a .22 pistol and magazine from the cadre's possession.
As per reports, Memai was carrying out extortion activities with the help of two local sympathizers, who have also been apprehended.
A resident of Changlang district, Memai had joined the NSCN (R) in 2019  under the influence of the members of the said outfit.
All the three miscreants were handed over to the Kharsang police for further investigation, along with the seized items.
The operation by the security forces is a part of a major crackdown on the insurgent cadres in the Tirap, Changlang and Longding region where the cadres are asked either to surrender or face the brunt of the security forces.