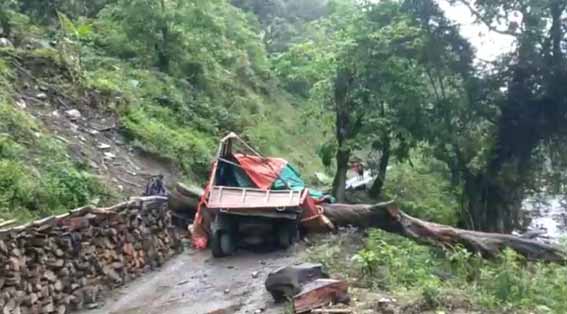 Staff Reporter
ITANAGAR, 13 May: Two persons were reportedly crushed to death and six more sustained injuries when a tree fell upon a moving mini-truck near Karo village, 40 kms off Tato in Monigong circle of Shi-Yomi district.
Shi-Yomi SP Gothombu Dajangju informed that the incident occurred at around 4 pm of 11 May, when the mini-truck (AR08-B-0598) was coming from Monigong to Aalo.
"We received information about the incident yesterday at around 11-12 o'clock in the day from a relative of a deceased, informing about the incident," Dajangju said.
The SP informed that the deceased have been identified as Tatum Pudur (20), who was working as a handyman, and Yadik Mardo, who succumbed to injuries at Bakin Pertin General Hospital in East Siang HQ Pasighat.
Four injured people were rushed to the district hospital in West Siang HQ Aalo, and one was evacuated to Dibrugarh (Assam) in a critical condition, the SP added.
The SP informed that a case [No 02/21 u/s 279/304 (A) IPC] has been registered at the Tato police station.