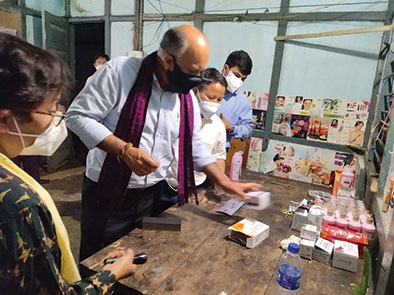 CHANGLANG, 15 May: Chief Secretary (CS) Naresh Kumar visited Changlang on Friday to take stock of the Covid-19 preparedness in the district.
The CS visited the Covid care centre (CCC) here, interacted with Covid positive patients, and inspected the basic medical amenities like oxygen cylinders, required medicines, etc, at the CCC.
He then inspected the proposed oxygen plant, laboratory, RT-PCR room, X-ray room, the DCHC and the Covid control room at the district hospital here. He also inspected the oxygen concentrators available at the hospital, and expressed dissatisfaction over its efficacy.
The CS attended two consecutive meetings – one with the medical team over Covid-19 preparedness and their requirements, and the second with the HoDs of various departments.
The medical team briefed the CS on the Covid-19 pandemic in the district and their requirements, such as more RAT kits, oxygen cylinders, generator, etc.
Kumar stressed on getting the elderly people in far-off villages vaccinated, and for this purpose asked the medical department to get help from the GBs and ASHAs.
The CS also called for identifying a community health centre or a primary health centre in each of the five assembly constituencies of the district and strengthening them with basic medical facilities. For this, he asked the department for "a checklist of the items with specifications needed at each identified CHC/PHC."
Kumar also stressed on more institutional deliveries of pregnant women, and suggested identifying a proper delivery room in every PHC and CHC. "Every village should have a trained midwife," he said, and sought a comprehensive health management plan for the entire district to be submitted to him.
Kumar also stated that he would not hesitate to suspend any doctor "if found to be absent from his/her posting place but working in some private hospital."
All the HoDs placed their progress reports before the CS, along with their grievances, mostly related to non-release of fund.
Stressing on developing horticulture, the CS asked the department concerned to introduce walnut production as an experiment, and said he would provide financial assistance of Rs 20 lakhs for the purpose.
Large cardamom and kiwi plantations have already been started in the district on an experimental basis. The CS also suggested preparing a comprehensive plan for setting up an arecanut plant in the district. (DIPRO)