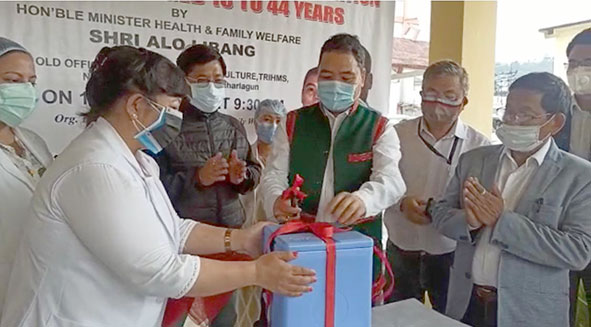 Staff Reporter
NAHARLAGUN, 17 May: Health Minister Alo Libang on Monday informed that the state government is trying to make Russian made Sputnik V Covid-19 vaccine available at both private and government health centres across the state.
Libang made the disclosure during the launch of the state's Covid-19 vaccination campaign, 'Tika Utsav', at Tomo Riba Institute of Health & Medical Sciences (TRIHMS) here. The 'Tika Utsav' will continue till 30 May.
He also informed that, besides making efforts to procure Sputnik V vaccine, the health department is in continuous touch with the Serum Institute of India for Covid-19 vaccines.
Libang meanwhile appealed to all to strictly follow Covid-19 appropriate behaviour, informing that six cases of the highly contagious B.1.617.2 lineage of the SARS-CoV-2 virus have been detected in the state.
With regard to the Covid-19 vaccination drive for people in the age group of 18-44 years, the minister informed that the health department has identified 36 vaccination centres across the state where more than 100 people in the age group of 18-44 years are being vaccinated daily.
"The Itanagar capital region (ICR) has received 300 vaccines so far on the first day of Tika Utsav," he added.
Libang said that the health department has 50,000 Covid-19 vaccines for the targeted age group of 45 years and above. "However, there are only 20,180 vaccines for the people in the age group of 18 years and above," he said.
Meanwhile, ICR DMO Dr Mandeep Perme informed that the vaccine doses can be availed at RKMH (Itanagar), TRIHMS and the art and culture premises in Naharlagun. He said that "the vaccine doses will increase in the next day to 200, which will be provided at the same locations."
He, however, said that there will not be any spot registration for the dose, and that registration should be done through the online mode.
Altogether 3,10,761 people were vaccinated across the state on day one of the 'Tika Utsav'.
State Immunization Officer Dr Dimong Padung informed that till now 3,05,000 doses of Covid-19 vaccines, including first and second dose, have been given to frontline workers and those above 45 years of age in the state.
He also said that "3,600 bookings were made in the 18 to 44 years for the first day."
"In districts like Kurung Kumey, the vaccine could not be scheduled due to internet problems," said Dr Padung.