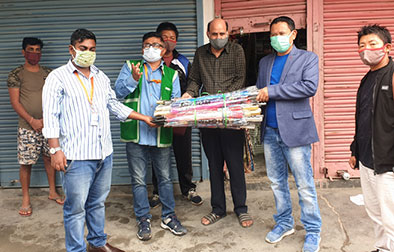 NAHARLAGUN, 19 May: Itanagar Municipal Corporation (IMC) Corporator Tarh Achak on Wednesday donated 35 umbrellas for the police personnel that have been assigned to work on the streets to enforce the containment order of the Capital district administration.
Achak informed that the police personnel and other security forces, including the Itanagar traffic wardens have been working in difficult weather conditions to impose the containment order issued by Itanagar Capital Region Deputy Commissioner Talo Potom.
"They may also get wet in the rain and get sick and we might end up losing their valuable services during the pandemic. Their round-the-clock service is praiseworthy and needs to be appreciated by everyone. I appeal to all sections of society and likeminded people to come forward and support the security forces engaged in groundwork as well," Achak said.
Meanwhile, Itanagar Police Station OC, Inspector Phasang Simi has lauded the effort of the IMC corporator for helping the frontline workers and was hopeful that it would go a long way in motivating the police and others working for the welfare and safety of the masses during the pandemic.