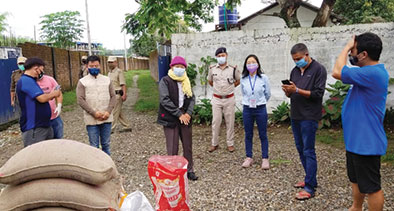 BANDERDEWA, 19 May: Ration items were handed over to Rajiv Bhattacharjee, in charge of ASHA Bhawan, a drug rehabilitation centre here on Wednesday by Itanagar Capital Complex Deputy Commissioner Talo Potom.
The ration items were donated by social activist and progressive farmer Likha Majj and Ward No. 20 Corporator Arun Kipa Loram.
Banderdewa CO Ritu Tawe informed, "The district administration team, led by the DC, took on the initiative after learning that the centre
which runs on voluntary donations was currently running out of rations due to the lockdown and shortage of funds."
Later in the day, the DC interacted with the officials posted at the Banderdewa check gate and distributed umbrellas to the personnel which were also donated by Likha Maj.
The district administration has meanwhile requested others to also come forward and help those in need. (DIPRO)