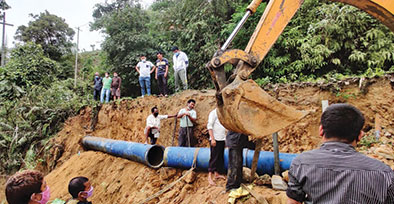 ITANAGAR, 19 May: The PHE & WS department has informed that water supply to Itanagar Township from the Poma source will be affected due to damage caused to pipelines. PHED Itanagar Executive Engineer Tadar Mangku informed that it will take at least a week to restore the damaged pipelines.
"Due to torrential rainfall leading to soil erosion, the main water supply line has been damaged at Rillo-Moin village on Wednesday morning. This will disrupt water supply to Itanagar Township. Most parts of the capital city would be affected," he said.
"Men and machinery have been deployed for early restoration, however, it will take a minimum of seven days to restore the water supply line subject to weather conditions," he added.
"In the meantime, the water tankers of the PHED shall be pressed into service in the affected areas," said EE Mangku.