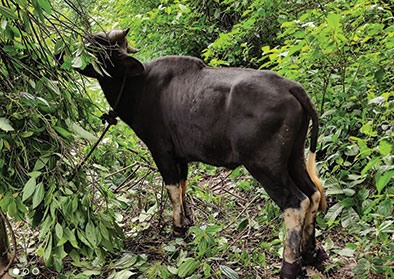 Staff Reporter
PASIGHAT, 28 May: A contagious foot-and- mouth disease (FMD) has reportedly broken out in the Siang belt, comprising Siang, West Siang, East Siang and Upper Siang districts, affecting cloven-hoofed animals, particularly mithuns, in the entire region.
Unverified sources in Pasighat claimed that the FMD broke out in mid-March and has already claimed hundreds of mithuns in the Siang belt. They said hundreds more are currently being infected by the contagious virus. However, there is no official data on the fatality figure.
Sources also informed that Upper Siang is the worst hit district in the Siang belt. It is also learnt that the villagers are treating the disease locally by themselves.
AAPSU general secretary Tobom Dai, who is a native of Pasighat, sought the state government's immediate intervention to contain the FMD from spreading further. In a social media post, Dai claimed that several families have lost their mithuns to FMD. Dai also said that if the contagious virus is not contained on time, it would have "significant economic impact on the villagers."
On being contacted, Animal Husbandry Secretary Bidol Tayeng confirmed the report of the FMD outbreak. However, Tayeng claimed that the cases have subsided in the other districts, except in Upper Siang.
"In other Siang belt districts, cases have subsided, but in Upper Siang it is still persisting," said Tayeng. He informed that department officials and staffers could not reach the villages as the villagers have imposed lockdowns in their areas. However, he said all district veterinary officers of the affected districts have been directed to gather correct information on the FMD outbreak "and rush to the spot with required medicines and also monitor the situation."
"The department staff is on the job. We are facing technical issue due to Covid lockdown. The villagers are on lockdown; they do not allow outsiders to go inside the villages. However, we are ready to extend help to whoever takes the staff to the sites," Tayeng said.