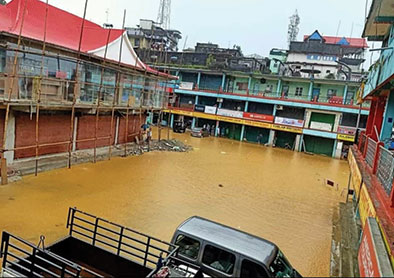 Staff Reporter
ITANAGAR, 31 May: At least eight villages and 312 people in the Itanagar capital region (ICR) were affected on Monday due to flood and erosion caused by incessant rainfall over the past few weeks.
As per details available with the district disaster management authority, seven OBT houses and 24 huts in Lekhi village under Naharlagun were also damaged.
The rains also caused severe overflow of the drainage system and flooded the Akashdeep shopping complex and the national highway near the Ganga market in Itanagar.
The retaining wall of the newly constructed National Highway 415 opposite D Sector, near the IG Park forest gate, also gave way and led to large cracks occurring on the road.
A landslide and subsequent road blockage also reportedly occurred on the road that links the government higher secondary school and Upper C Sector. The landslide is also posing a threat to the boundary wall of the Doordarshan Kendra office, which is on the verge of collapse. A large sheet of tarpaulin has been spread across the loose soil to prevent further erosion for the time being.
At the same time, no loss of life or livestock has been reported in the capital region.
Addressing reporters virtually in the evening, ICR DC Talo Potom informed that he has issued strict directions to the engineers of the highway department and TK Engineering "to make corrections" to the highway damages.
Earlier in the day, officials, including the DC, inspected the overflowing drainage and flooding in the Ganga market area, and said that a major cause of the blockage and overflow was "indiscriminate disposal of garbage on the streets and drains."
Stating that the flooding in Akashdeep and the Ganga market area could have been prevented, Potom requested citizens to be mindful of where they throw their garbage, and requested the public to inform the municipal corporation or the district administration if they notice heavy garbage in drains and culverts.
The district administration will provide Rs 3,800 as immediate relief to the families affected by the damages after assessment, said the DC.