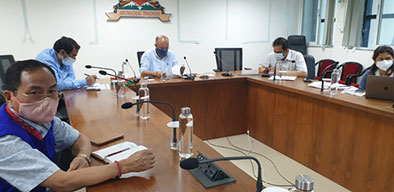 ITANAGAR, 31 May: Chief Secretary Naresh Kumar on Monday took stock of the Covid-19 management, especially the status of anti-Covid vaccination and testing, in the state with the deputy commissioners (DC) through the virtual mode.
The chief secretary asked the DCs to prepare micro-plans to ensure maximum vaccination coverage of both the 18-44 years and the above 45 years categories.
"There is sufficient stock of vaccines with the government," he said.
He directed the health & family welfare department to keep at least 160 anti-Covid vaccination centres operational every day "and try to find ways to address the reasons for poor vaccination coverage in the districts."
Kumar also asked them to make every possible effort to dispel myths and rumours about anti-Covid-19 vaccines through awareness campaigns involving the gaon burahs, panchayat leaders, political assistants, etc, and make them understand the importance of getting vaccinated against Covid-19.
Principal Home Secretary Rajeev Verma, Health & Family Welfare Principal Secretary Dr Sharat Chauhan and State Surveillance Officer Dr L Jampa were present at the meeting at the state civil secretariat.