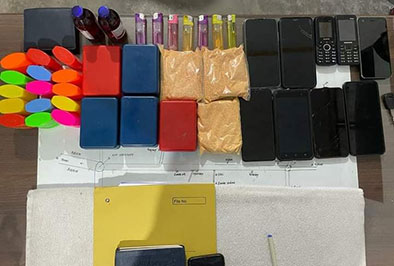 RUKSIN, 31 May: The Ruksin police in East Siang district arrested one Biren Doley and seized two plastic containers filled with contrabands from his possession on 29 May.
Doley was nabbed from near the Ruksin check gate by a team of police led by Rusksin Police Station OC Abraham Taying. The drugs were meant to be delivered to some drug abusers in West Siang HQ Aalo, the police said.
A case has been registered against him under the NDPS Act.
In another incident, four persons were caught red-handed by police while consuming drugs in a bungalow in the Lingka tea estate. The apprehended persons have been identified as Tatem Padung and Tapor Bori, of Oyan village, Raising Taloh (caretaker of the bungalow), of Rani village, and Ojay Payeng, of Leku village.
All of them have been detained by the police and are presently in the custody of the Pasighat police.
Contraband suspected to be heroin, weighing 15.30 gms, along with drug consuming equipment were seized from them in the presence of the magistrate. The police have launched further investigation after registering a case under Sections 21 (b)/27 (a) of the NDPS Act.
The police team was led by Ruksin SDPO Token Saring and Ruksin PS OC Taying.
East Siang SP Sumit Kr Jha commended the team of police and reiterated that all drug peddlers and abusers would be dealt with with an iron hand.
The SP appealed to the locals to share information about drug peddling and drug abusers.