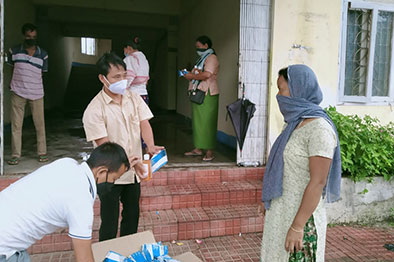 ITANAGAR, 1 Jun: Members of the All Arunachal Pradesh Labour Union (AAPLU), led by its president Dana Tadu, on Tuesday distributed masks and sanitizers to labourers at Forest Corporation Colony here.
Many labourers benefitted from the distribution. Later, briefing the press, the AAPLU president informed that the distribution programme was initiated by Arunachal Pradesh Building & Other Construction Workers Welfare Board Chairman Nyato Dukam.
"We are identifying the areas where the labour community resides, and after that distribute these items to them. Even in the districts too, the AAPLU district units are conducting such distribution programmes," said Tadu.
He informed that ration items will also be distributed to the labour community shortly. Further, Tadu appealed to house owners not to charge rent for one month from students and members of the labour community.
"Daily wage labourers have not earned anything in the last one month due to the lockdown. Therefore, I appeal to the house owners not to levy rent for the month of May," he said.