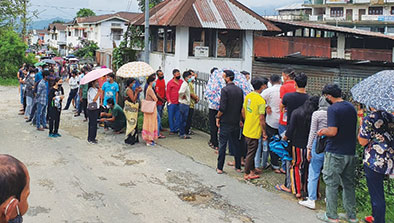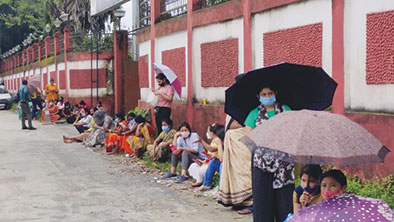 Staff Reporter
ITANAGAR, 2 Jun: Lack of coordination among the health department, district and the state administration and ill-preparedness of the vaccination programme was laid bare on Wednesday as Itanagar Capital Region (ICR) saw an unprecedented rush in the designated vaccination centres, defying the standard operating procedures.
The designated vaccination centres, such as Rama Krishna Mission Hospital (RKMH) and Itafort dispensary in Itanagar and the Art and Culture Office in Naharlagun were crowded, with long queues witnessed in every designated vaccination centre.
It is reported that the mad rush was a result of the notification issued by National Health Mission (NHM) Director CR Khampa at the behest of Chief Secretary Naresh Kumar stating spot registration for the age group of 18-44 years.
Sources informed that the government asked the health department to expedite the vaccination campaign as directed by the Prime Minister of India to administer 25,000 doses in three days.
The NHM's effort to fast track the vaccination programme of the 18-44 years with spot registration turned out to be a blunder as the health and frontline workers deployed at vaccination centres were unable to handle the crowd.
Later, the district administration and the police had to be rushed in for crowd management.
The ill-devised vaccination process drew flak from all quarters, especially from doctors who said that "the entire purpose of lockdown or containment was defeated the moment hundreds were allowed in for spot registration."
"The main objective of slot system was to control unnecessary crowding, but the chief secretary's order to meet the target has created chaos," said a health worker on conditions of anonymity.
The health workers on the ground alleged that the administration neither consulted them nor conveyed their decisions before issuing an order, which resulted in massive chaos at the vaccination centres.
"Orders are updated minute-to-minute and those who are executing the orders at the ground level rarely have time to go through them," said a doctor on vaccination duty.
He further said that it would not be possible to vaccinate 25,000 people in three days in the ICR.
Another doctor claimed that because of the blunder by the state administration, "the ICR is likely to see more positive cases in the next two weeks, as it was impossible to maintain physical distancing in vaccination centres."
Sensing its own blunder, the NHM had cancelled its order and stated that registration for 18-44 years old would be done online only and spot registration can be done for 45 years and above category.
However, in another press communiqué later in the evening, the capital DA informed that there will be on-the-spot registration of the people at the vaccination sites for those who have not booked a vaccination appointment through online mode.
When the situation had reportedly gone out of control, Deputy Commissioner Talo Potom visited the designated vaccination centre.