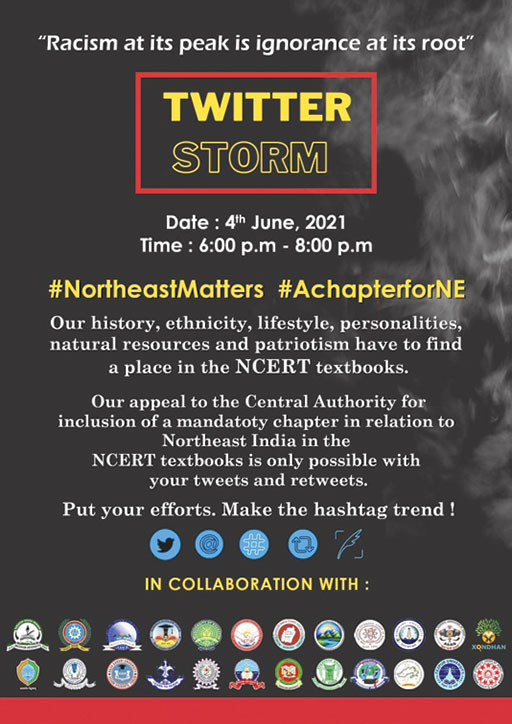 [ Amar Sangno ]
ITANAGAR, 2 Jun:  A sense of alienation and identity crisis about the North East region in the country has prompted the youths of the Northeast states to drum up a massive social media campaign from the region titled '#Twitter Storm #AChapter for Northeast India in NCERT textbooks,' slated for 4 June.
As a part of the strategy, '#A Chapter for NE in NCERT' and '#Northeast Matters' would run on Twitter, tagging Prime Minister Narendra Modi, Union Home Minister Amit Shah, Union Minister Education Minister Ramesh Pokhriyal, Union MoS Youth Affairs Kiren Rijiju and all the respective chief ministers of the eight states, demanding inclusion of a chapter on Northeast India in the curriculum of NCERT textbooks.
It is a clarion call to the centre that Northeast India's geography, culture, ethnicity and its way of life should be included in the educational curriculum so that they are not discriminated on racial and ethnic lines in their own country.
The unprecedented Twitter or social media campaign has been ignited by YouTuber Paras Singh's racial slur on Arunachal Pradesh and MLA Ninong Ering.
The campaigners believed that inclusion of a chapter on Northeast states in NCERT book is the only way to educate fellow Indians about distinctive cultures, traditions and history of Northeast India.
The campaigners are mostly university and college students of the eight states. At the same time, the social media campaign has also garnered unprecedented support from distinctive age groups, personalities and professionals etc. Various WhatsApp groups have also been created in respective states in the region as part of the campaign.
Different personalities, ranging from academicians, musicians, university students and professionals across India have extended their solidarity to the Twitter storm campaign with the hashtag 'Northeast matters'.
Sharing ideas behind the Twitter storm media campaign, Asmita Bharadwaj, vice president of the Northeast Students' Union of Vadodara, Gujrat said, "You Tuber Paras Singh passed derogatory remarks on the MLA of Arunachal Pradesh connoting him as Chinese. It was transparent enough that he himself as an Indian did not have any idea about Northeast India. This very incident along with the long-driven history of identity issues and discrimination over Northeast Indians led to the idea of a Twitter storm for inclusion of a section on Northeast India in NCERT Textbooks."
Bharadwaj, who is from Assam, further said that their aim is to appeal humbly to the central authority for an obligatory place for Northeast India's history, ethnicity, vibrancy, diversity, special features, contribution to India's development and eminent personalities in the NCERT textbooks.
She went on to say that the NCERT textbook was chosen because it is widely used in educational institutions, and it is the only method to create an ever-lasting impact in every student's mind.
Bharadwaj disclosed that they are receiving overwhelming support from various social media influencers, actors and news channels and also from MLA Ninong Ering of Arunachal Pradesh.
The Rajiv Gandhi University Students' Union, the RGU Research Scholars' Forum and Students' Union of NERIST are also extending their solidarity to the campaign.
In May 2013, it was reported that Arunachal Pradesh was missing from the Indian political map of the class 10 geography textbook of the Maharashtra State Board of Secondary and Higher Secondary Education. Later, the Maharashtra government had to apologise for the inadvertent error. The textbook was printed by the state press, Balbharti.