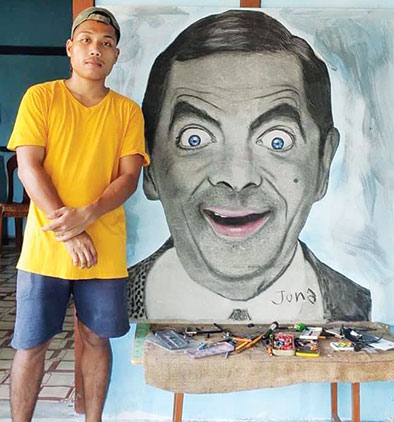 [ Felix Anthony ]
KHARSANG, 2 Jun: Jonathan Wangpan, a youth from Longtom village in Changlang district is spreading positivity during this difficult time with portraits made from charcoal.
The 23-year-old makes portraits from charcoal on ceiling boards and his creations have received thousands of shares on social media.
His portraits of famous personalities like Mr Bean, Snoop Dogg and Kiren Rijiju have won hearts of many across the North East region.
Wangpan, a student of Servanthood Bible School in Dimapur, Nagaland says he got some ideas and inspiration from YouTube videos to make portraits using charcoal.
"I am happy that I am able to spread some happiness during these depressing days. My lacklustre life in the past had taken me to all kinds of bad habits, leading to me flunking class 12 examinations. I did not want to go back to my bad past by keeping the mind idle during this lockdown. I looked for some inspiration on YouTube and a few ideas inspired me to take up charcoal portraits paintings.
 I did not expect at all the love and appreciation I have received," he said.
Impressed with his artwork, Changlang DC Devansh Yadav has offered him a drawing assignment. Few others too have asked Wangpan to draw for their offices and workplaces.