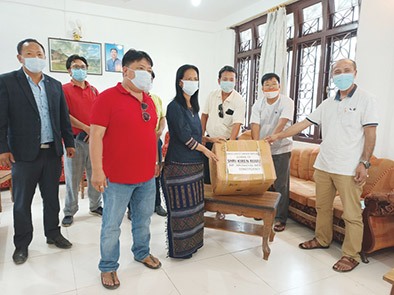 HAPOLI, 16 Jun: Two hundred pulse oximeters donated by union MoS for Sports Kiren Rijiju was received by Lower Subansiri Deputy Commissioner Somcha Lowang at the circuit house here on Wednesday.
The donation was made in the presence of DMO Dr Tage Kanno, the MoS' OSD Komjum Tasso, district BJP vice president Duyu Jimmy, and others.
A pulse oximeter is used to check how well the heart is pumping oxygen through the body. It is used to monitor the health of individuals with any type of condition that can affect blood oxygen levels.
Expressing gratitude to the MoS, the DC said that the oximeters would be of great assistance in monitoring the health condition of Covid-19 patients in the Covid care centres and home isolation.
"A modality will be worked out to issue the oximeters to Covid positive cases, ensuring that the needy and the poor benefit from this donation," she added.
Lowang further brought to the notice of the MoS the lack of amenities like platform for cremation, water connectivity, etc, at the lone memorial park (cremation ground) in Tarin, which was constructed with money from the MPLAD fund.
"During this pandemic, unclaimed Covid-19-related dead bodies have to be disposed of by the administration. The lack of facilities at the cremation ground is posing a lot of difficulties for the administration," the DC said.
She informed that the maintenance of the approach road to the cremation ground "will be taken up on priority," and called for voluntary contributions from all the HoDs. (DIPRO)