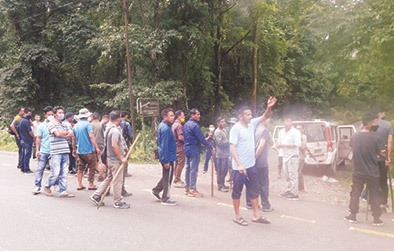 Correspondent
RUKSIN, 14 Jul: Search operation has been intensified along the Assam-Arunachal boundary covering Poba Reserve Forests (RF) and riverbanks to capture under trial prisoners, who escaped from the jail in Pasighat recently.
The East Siang police on being informed that two escaped prisoners were roaming at Purana Jelom area, at interstate boundary, have cordoned the area since last evening and are conducting search to nab them.
The youth wing members of the Adi Baane Kebang, along with VDPs and NGO members of East Siang and Mising Student Union of Jonai in neighbouring Assam are helping the police in the search operation and taking position at every vulnerable location to trace the escapees' movement.
Ruksin SDPO T Saring and OC inspector Abraham Taying have appealed to the people dwelling near the boundary areas, including gaon burahs and community-based organizations of both states, to keep vigil over suspected movement of persons and report it immediately to the local police.
Earlier on the evening of 11 July, seven undertrial prisoners had escaped from Pasighat jail. The police following a tip off re-arrested one of them but six others are still at large.
The six escapees who have now been declared 'wanted' are Telung Panyi (37) of Tuting, Raja Tayeng (23) of Gadum (Mebo), Diganta Gogoi alias Abhijit (30) of Dibrugarh Kumargaon (Assam), Santosh Mandal (28) of Cooch Bihar (West Bengal), Taro Hamam (18) of Palin (Kra Daadi) and Deni Gamlin (28) of Nari in Lower Siang district.