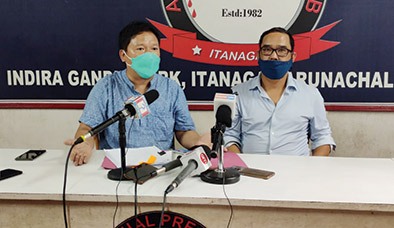 Staff Reporter
ITANAGAR, 16 Jul: All Arunachal Pradesh Students' Union (AAPSU) president Hawa Bagang has denied the allegation of financial fraud made against him by one Vidya Amarnath, and said that he will in fact undertake legal recourse against the person for defamation.
Addressing a press conference here on Friday, Bagang said that his name has been dragged into the issue because one of his former associates, Rohit Das, had duped the victim while fraudulently using his firm's name.
He also expressed willingness to cooperate with any investigating agency to further confirm his innocence in the case.
Bagang informed that an FIR was registered regarding the case at the Itanagar police station on 17 July, 2019, which was later transferred to a special investigation team (SIT) in Itanagar. During the course of the investigation, the SIT found no connection between Bagang and the entire case, and gave him "a clean chit," he said.
Further disclosing the investigation details, Bagang said that Das had duped the victim of Rs 12.45 crores through a fake bank account opened at the then Vijaya Bank (now Bank of Baroda) in the name of his firm M/s Loma Yoma Enterprises.
Informing that he had known Rohit Das since his childhood, and that they were business partners once for a project, Bagang said: "Das on a few occasions handled some of my firm-related works, and so, at one point of time, I gave him my firm's documents for its registration under the PWD for government-related tender works. It was during this time that Das, while breaching my trust fraudulently, opened a bank account in the name of M/s Loma Yoma Enterprises to dupe the victim in the said case."
He informed that the fake bank account opened by Das using his firm's name was signed by one Akash Dolo as its proprietor. Also, during investigation of the money trail, nowhere did his name or his bank accounts came up, he said.
"During the investigation, it was also established that even the name Akash Dolo, projected as proprietor in the account details, was fake and had been created solely to dupe the victim," Bagang said.
He further said that his firm's name was used only to win the trust of the victim, and once that trust was established, the culprits opened a fake bank account for the fund transaction.
Stating that he will take legal recourse against Vidya Amarnath for defamation, Bagang said that Amarnath should have contacted him at least once over the phone or through other means before depositing such a huge amount.
He added that, had Amarnath contacted him first following the fraud instead of defaming him on social networking sites, he would have supported her and would have cooperated with her for recovery of the fund.
Meanwhile, Bagang's legal counsel, advocate Marto Kato, who was also present at the conference, said that his client's innocence in the case has been well established by the detailed investigation undertaken by the SIT.