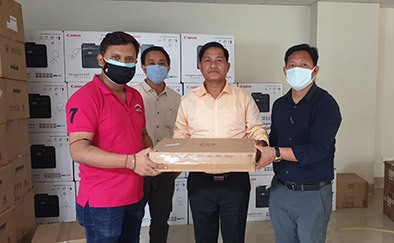 ITANAGAR, 16 Jul: ICT hardware equipment has been distributed to all the directorate offices here for successful implementation of eOffice.
The equipment was distributed by State Council for IT&E-Governance Chairman Doni Nich in a function at the civil secretariat here on Friday.
Lauding the effort of the IT & communication (IT&C) department to bring all offices under the ambit of a paperless working system and provide G2G and G2C services in a more prompt and transparent manner, Nich thanked Chief Minister Pema Khandu for "undertaking visionary reforms to shift from the traditional file movement system to electronic file movement system to root out corruption and bring about speedy and transparent movement of office files."
The eOffice initiative has been implemented in the state by the IT&C department, in collaboration with the NIC. The initiative was rolled out at the state civil secretariat by the chief minister in August 2016.
The IT&C department informed that the use of eOffice has grown manifold since the pandemic hit the country.
"As on date, 152 offices are currently on the eOffice platform in the capital region. More than 8,000 e-files have been created and more than 40,000 e-receipts/daks created and moved. The department has the target to roll out eOffice in all the offices down to the district level by 2022, as per the directives of the chief minister," the IT&C joint director informed in a release.