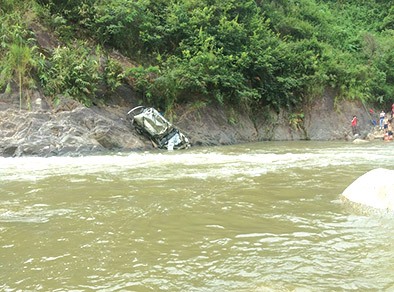 Staff Reporter
SAGALEE, 16 Jul: The vehicle which fell into the Pare river near Balapu village in Sagalee ADC circle of Papum Pare district on Wednesday was found on Friday morning.
However, the missing woman, identified as Amak Dolo (29), is yet to be found, DSP Bomken Basar informed.
The joint search operation team, comprising local youths from Balapu and Laptap villages and personnel of the police and the NDRF, spotted the Mahindra Scorpio underwater near the accident spot at around 9:45 am.
The vehicle was completely mangled, and the missing woman was not found, the police informed.
It is reported that, though the rescue team was able to lift the vehicle from the river, they were unable to pull it up all the way to NH 13, owing to shortage of ropes.
Amak Dolo along with driver Bishop Nampe was coming from Seppa towards Itanagar when their vehicle, a Mahindra Scorpio (AR-05-5009), skidded off the road and fell into the Pare river on Wednesday morning.
Nampe sustained grievous injuries and was evacuated to the Sagalee CHC.