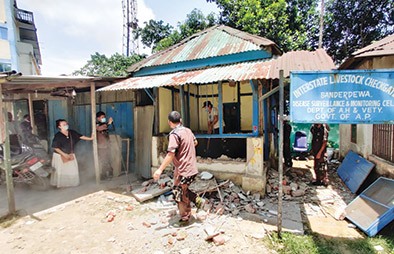 Staff Reporter
BANDERDEWA, 20 Jul: The capital administration on Tuesday started demolition of the structures falling within the right of way (RoW) here.
Itanagar Capital Region (ICR) Deputy Commissioner Talo Potom along with SP Jimmy Chiram and several other officials were present on the occasion.
On the first day, the government structures falling under the RoW were demolished, and those who themselves demolished their structures were paid charges for it.
Briefing the media, Potom said that the tender processes for Package B (Papu Nallah to Nirjuli) and Package C (Nirjuli to Banderdewa) of the four-lane highway has already been done.
"The contractors are asking for encumbrance-free land, and therefore we have started the process to acquire land. The state government is paying self-demolition charges to those who demolish their properties on their own. If they don't do it, the administration will demolish it," said Potom.
He also said that compensation is being paid to the genuine beneficiaries.
Kipa Hipik, a local businessman, alleged that the administration tried to conduct an eviction drive without issuing prior notice.
"Proper notice should be issued before starting the demolition of properties. Also, the administration should give enough time for self-demolition to the owners. Panchayat members, gaon burahs and IMC representatives should be informed beforehand," said Hipik.
He further claimed that there are discrepancies in compensation distribution, as well.
The demolition drive is expected to continue for the next few days. Earlier, on Monday, Chief Secretary Naresh Kumar convened a meeting to discuss the issues related to acquisition of land for the four-lane project from Papu Nallah to Banderdewa. It was decided in the meeting that the ICR DC will hand over encumbrance-free land for Package C (Nirjuli to Banderdewa), except viaduct, to the PWD highway by 25 July, and that Package B (Papu Nallah to Nirjuli) will be handed over on 10 August.