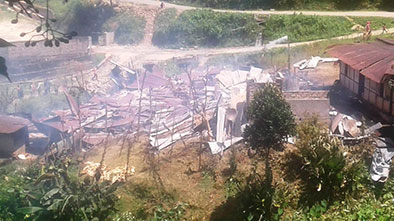 AALO, 26 Jul: A fire that occurred in the morning of 22 July at Sirurijo Tea Company Pvt Ltd in Yomcha circle of West Siang district burnt down a seven-roomed barrack in which eight families were accommodated. No casualty was reported.
The victims are officials and labourers working in the tea estate. Along with the barrack, personal properties were also reportedly reduced to ashes in the fire.
The tea company's managing director, Tugo Gangkak organized an 'awareness-cum-relief distribution ceremony' to prevent the outbreak of such fires in the future.
The MD of the company's board of directors, Dr Goto Gangkak, along with relatives and other staffers collected Rs 2 lakhs, out of which Rs 50,000 was paid to Tumbom Gangkak and family, and Rs 35,000 each to all other victims. Clothing and utensils were provided to the victims by the tea company's director Yayum Gangkak.
Tumbom Gangkak appealed to the Yomcha administration to assess the losses incurred in the fire. (DIPRO)