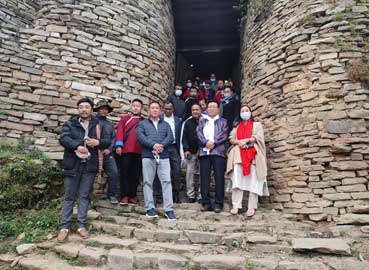 DIRANG, 28 Oct: Education Minister Taba Tedir, who was on a two-day tour of West Kameng district recently, assured the members of the Thembang Heritage Village Council (THVC) that the state government will provide all possible support to ensure that Thembang makes it to the final list of the UNESCO's World Heritage Sites.
The minister gave the assurance during his visit to Thembang village and the upper primary school there on Wednesday.
The members of the THVC apprised the minister of the current position of Thembang in the process of inclusion in the final list of the UNESCO's World Heritage Sites.
In a memorandum to the minister, the council said that "Thembang village has been nominated for World Heritage Site by UNESCO in the year 2014 along with Ziro valley and state government has already declared Thembang as state heritage site in the year 2015, but even after five years, there is delay in the process to make Thembang a World Heritage Site."
"Thembang could be a great asset and pride for our state if it makes it to the final list of UNESCO World Heritage Site," it added.
On Thursday, the minister inspected the government polytechnic college, the Sarada Mission School, the government higher secondary school (GHSS), and the under-construction building of the GHSS Dirang.
Interacting with the teachers and students of the Dirang Polytechnic College, Tedir informed that "the government has already allotted Rs 1 crore each for the administration building, library and thirty-bedded boys' hostel, besides Rs 50 lakhs for the playground and Rs 30 lakhs for the internal road connection."
"All the necessary support will be provided by the government to get the final approval from the AICTE," he added.
During the inspection of the under-construction building of the GHSS, Tedir directed the executing agency and the contractor to maintain the quality of work and complete it on time.
Later, the minister inaugurated the information & communication technology laboratory constructed under the JIGYASA (RAA) project at the government secondary school in Rama Camp. (DIPRO)