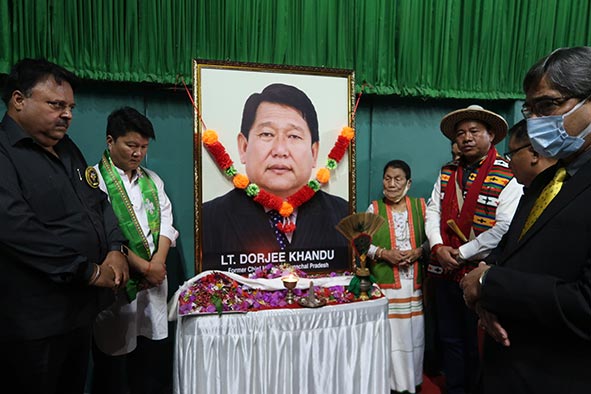 [ Karyir Riba ]
ROING, 6 Nov: The 8th Dorjee Khandu Memorial State Badminton Championship was declared open by Sports & Youth Affairs Minister Mama Natung at Naba Ita Pulu Indoor Stadium here in Lower Dibang Valley (LDV) district on Saturday.
A total of 276 players from all over the state are participating in the championship, which is being organized by the Lower Dibang Valley Badminton Association under the aegis of the Arunachal State Badminton Association (ASBA).
The district is hosting the prestigious championship for the second time, and the theme this year is 'No to drugs, yes to badminton'.
In his speech, Natung remembered Khandu and his contributions towards the development of Arunachal. He lauded the Arunachal Olympic Association and other registered bodies associated with sports like badminton, football, Taekwondo, boxing, etc.
"It is because of their hard work that our players are bringing laurels both nationally and internationally," he said, and advised the associations to "polish our young players and aim to bring medals in the Olympics for the country."
"One day Arunachal Pradesh will be known as the sports powerhouse of India. We are working towards this dream. Currently, Arunachal Pradesh is the third in the Northeast, after Assam and Manipur, to be given the National Centre of Excellence. Construction of infrastructure for the uplift of sports activities is going on in full swing in the 20,700 sq mtr vacant land which was donated by Chief Minister Pema Khandu in the greater interest of the people of Arunachal," he said.
Addressing the players, Natung said, "Every individual is born with a talent. Find your talent; follow your passion, and one day you are bound to earn a name in the national as well as international levels. Pursuing games and sports requires not only physical efforts but full mental concentration too. Refrain from using drugs. Our youths are our backbone and we cannot see you drowning in social evils like drugs," he said.
Local MLA Mutchu Mithi said: "Games and sports are not just physical activities but are an identity. They bring recognition to a place. With hard work and sincerity, you can not only earn a name for yourself but for the whole state and the nation. The potential of LDV in sports should be utilized efficiently."
He advised the players to aim to represent the state at national and international levels in the coming days.
Badminton Association of India (BAI) secretary-general AK Singhania, ASBA secretary-general Bamang Tago and LDV DC KN Damo also spoke.
Dambuk MLA Gum Tayeng, Anini MLA Mopi Mihu, former chief minister Mukut Mithi, Sports & Youth Affairs Secretary Anirudh Singh, Youth Affairs Director Ramesh Linggi, BAI convener Rajesh Kamal Rajput, Gautam Mahanta from the Assam Badminton Association, Karmo Riram from the ASBA, LDV SP James K Lego and NHPC ED Janesh Sahani, among others, were present at the opening ceremony.
The final match of the championship will be played on 10 November.