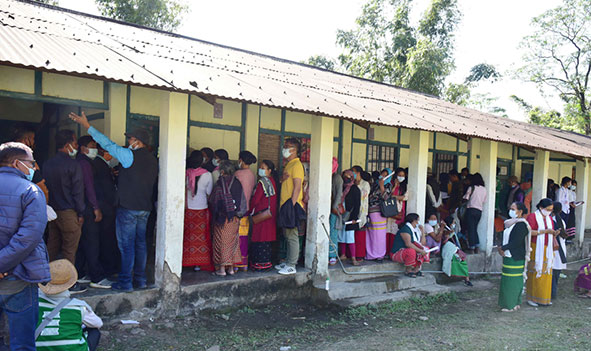 NAHARALGUN, 7 Dec: Taking healthcare to the people's doorsteps and to make MBBS students and faculty members understand the ground realities of the healthcare scenario, the Tomo Riba Institute of Health & Medical Sciences (TRIHMS) conducted a two-day multi-specialty health camp at New Dari in Leparada district on 3 and 4 December.
During the camp, 74 laboratory tests, including tests to measure the level of haemoglobin in blood, blood sugar, liver and kidney functioning and lipids were conducted. Apart from the laboratory tests, 156 ultrasound examinations and 31 ECGs were done and 112 dental and 33 minor surgical procedures were performed. Altogether 170 spectacles were distributed among eye patients, while medicines were distributed to more than 900 patients free of cost.
In total, 1,284 medical consultations were provided during the health camp. Besides the people from 12 villages of Dari circle, patients from distant places like Basar, Gensi and Likabali also availed the benefits of the health camp.
The medical team included 19 faculty members and senior consultants, 14 MBBS students, three nursing officers, eight technicians and seven supporting staffers. A gynaecologist from Lower Siang and two doctors, three nursing officers and two technicians from Leparada district assisted the TRIHMS team.
The camp provided research and learning experience to the MBBS students. The second and third year MBBS students, under the aegis of the community medicine department, interviewed and clinically examined 205 people aged 45 years and above and collected data on the risk factors of non-communicable diseases in the rural population.
The senior faculty members demonstrated classical cases to the MBBS students.
Earlier, the medical team paid homage to former chief minister late Tomo Riba and observed two minutes' silence at his statue at the Ego-Dari crossing.
The camp was inaugurated by Basar MLA Gokar Basar, in the presence of Leparada ZPC Nyabi Dirchi and the Leparada DC.
Sponsored by the Leparada ZPC and the people of Dari circle, the health camp was conducted in collaboration with the Siang Health Mission, with support from the Leparada DMO, DRCHO and DC.