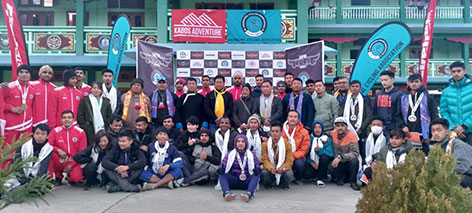 Staff Reporter
DIRANG, 10 Jan: Prakash Thapa Magar of the Indian's Army's adventure wing won the 4th MTB Tawang Challenge in the men's elite category after a neck and neck fight here in West Kameng district on Monday, while Tajum Dere from the host state was declared the best rider.
Overall, Magar clocked 8 hours, 29 minutes and 22.637 seconds to finish ahead of his nearest rival and compatriot Kamlesh Rana, who came in second with a timing of 8 hours, 29 minutes and 31.039 seconds, in the three-stage cycling event.
Shiven from Himachal Pradesh came in third with an overall timing of 8 hours, 30 minutes and 39.050 seconds. Padam Bahadur Ale (8 hrs, 42 mins and 36.321 secs) and Sukhdeep Singh (8 hrs, 49 mins and 28.152 secs) finished fourth and fifth, respectively.
In the men's junior category, Manipur's Soibam Lanchenba (12:34:55.172) won the first position, while Arunachal's Lobsang Phuntso came in second.
Overall, Phuntso clocked 12 hours, 39 minutes and 24.335 seconds.
Pynshailang Khyllait (13 hrs, 24 mins and 57.514 secs) from Meghalaya finished third.
Though Tajum Dere from the host state could not make a podium finish, he was declared the best rider. He stood eighth position (9 hours, 26 minutes and 33.296 seconds). Dere was awarded a cash prize of Rs 10,000.
In the first stage, the riders pedalled to Mandala Top, about 35 kms from here, and back. In the second stage on Sunday, they rode to Sela Top and back. Thereafter, the participants covered Sangti, Khalibok, Namsu and Munna Camp via Sangti before they were flagged in at the Dirang ground.
The winner, the runner-up and the third place finisher in the men's elite category were awarded cash prizes of Rs 80,000, Rs 60,000 and Rs 40,000, respectively. The fourth and fifth place finishers were awarded Rs 30,000 and Rs 20,000, respectively.
In the junior category, the winner and the second and third position winners were awarded Rs 30,000, Rs 20,000 and Rs 10,000, respectively.
West Kameng DC Karma Leki and Dirang ADC JT Obi distributed the prizes.
Thirty-four riders, including some of the best riders in the country, participated in the event. There were 11 riders from the host state.
The fourth edition of the mountain terrain biking, christened MTB Tawang Challenge, was organized by the Arunachal Cycling Association under the aegis of the Cycling Federation of India, with the aim of promoting cycling at the grassroots level.
The event was sponsored by the youth affairs department.