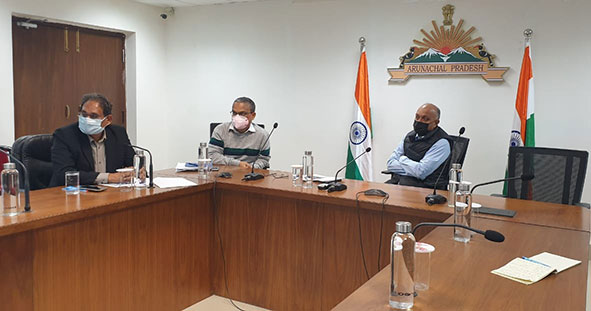 ITANAGAR, 11 Jan: Chief Secretary Naresh Kumar has asked the Arunachal State Rural Livelihoods Mission (ArSRLM) to think out of the box in order to uplift the livelihoods of the people of the state "in the true sense."
Addressing a review meeting here on Tuesday, the CS acknowledged the activities and plans of the ArSRLM to provide sustainable income to the people.
"In order to achieve the objective of the ArSRLM, which is to reduce poverty by enabling the poor households to access gainful self-employment and skilled wage employment opportunities through building grassroots institutions, activities as per the relevance of the areas concerned should be chosen," he said.
The ArSRLM has set a target to help form 6,000 SHGs by 31 March, 2022. "The ArSRLM should play the role of a facilitator and promoter and create a supportive environment for the growth and development of the SHGs in the state," Kumar said, and emphasized on proper monitoring of the projects.
Various activities being implemented by the ArSRLM, such as formation of SHGs and providing credit linkage under various central and state government schemes, were reviewed during the meeting.
Among others, Planning Commissioner PS Lokhande, RD Secretary AR Talwade and ArSRLM CEO Solung Miji were present at the meeting. (CS's PR Cell)