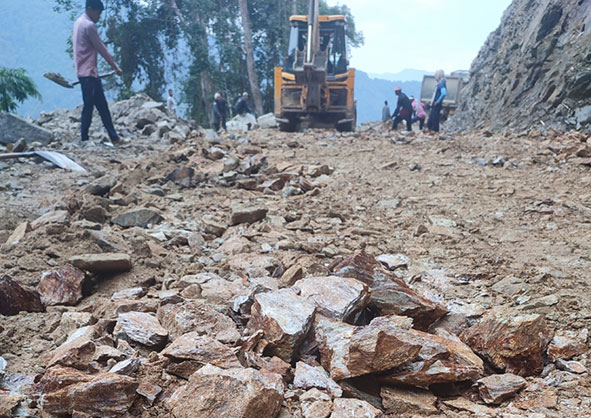 BOLENG, 11 Jan: The Siang District Law Students' Union has alleged substandard work in the construction of a rural road under the Prime Minister Gram Sadak Yojana (PMGSY) in Siang district.
The union said that the 24.72-km-long road from Pangkeng to Bingung has been taken up by the RWD at a total cost of Rs 29 crores.
A team of the union, accompanied by a site engineer (JE) on Tuesday inspected the under-construction road, following public complaint. The team later claimed that it found that the executing agency and the contractor(s) violated several norms in the construction of the road.
The union alleged that the road is not being constructed as per the specification and laid down norms and guidelines, leading to abnormality and poor quality construction. It alleged use of substandard and unspecified materials in the construction, which it said resulted in development of cracks in the culverts, concrete slabs, etc.
The union further alleged that the Kaying RWD division has released approximately Rs 12.16 crores against the work without properly verifying the road's status.
Demanding "immediate rectification of the poor quality of the road works," the union urged the higher authority to initiate appropriate action against the erring officer(s) for releasing such a huge amount of money without carrying out site verification.