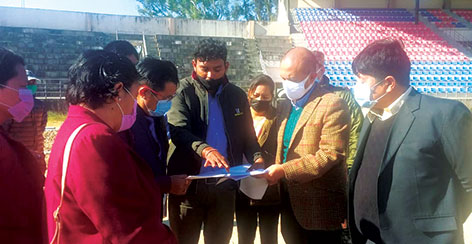 PASIGHAT, 18 Jan: MLA Kaling Moyong and East Siang DC Tayi Taggu on Tuesday inspected the progress of the construction of the cultural centre in Giidi Notko and the work on improving the field of the outdoor stadium here with natural turf.
The MLA instructed the executing agency to ensure timely completion and maintain quality of work.
The MLA and the DC were informed that the football turf development project, which started on 27 September last year, is expected to be completed in 2024, while the cultural centre is set to be completed by 2023.
Taggu said that "the issue of water stagnation must be taken into consideration by ensuring proper drainage provision for the ongoing improvement works on natural turf development."
Earlier, Urban Development EE PK Thungon and AE Mary Jopir briefed the MLA and the DC on the turf development project's status.
"The cultural hall has flexibility to attach temporary pandals for large gatherings while hosting events, festivals and workshops," they informed.
Chief Councillor Okiam Moyong Borang, Deputy Chief Councillor Rebecca Panyang Megu and mandal president Asar Padun were also present during the inspection. (DIPRO)