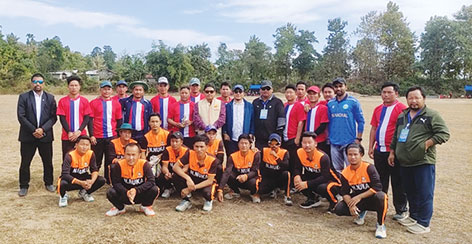 SCCC defeat BCA by 92 runs in opening match
BALIJAN, 18 Jan: Sagalee Circle Cricket Club (SCCC) defeated Balijan Cricket Association (BCA) by 92 runs in the opening match of the second edition of the Papum Pare T20 Super League at the general ground here on Tuesday.
BCA won the toss and opted to field first. SCCC set a target of 208/6 in their allotted 20 overs.
SCCC's Techi Tiklee, who was adjudged man of the match for his outstanding performance, scored 73 runs in just 34 balls, while Techi Sonam scored 43 runs in 25 balls.
BCA managed to score 116, losing 8 wickets.
In the second match of the day, Sangdupota Circle Cricket Association beat Tarasso Cricket Association by two wickets.
The third match was played between Doimukh Cricket Association and Silsango Cricket Association, in which the former defeated the latter by 45 runs.
In the fourth match, Mengio Cricket Club defeated Leporiang Circle Cricket Association by 18 runs.
Eight teams are participating in the tournament, which is being organized by the Papum Pare District Cricket Association under the aegis of the Arunachal Cricket Association.