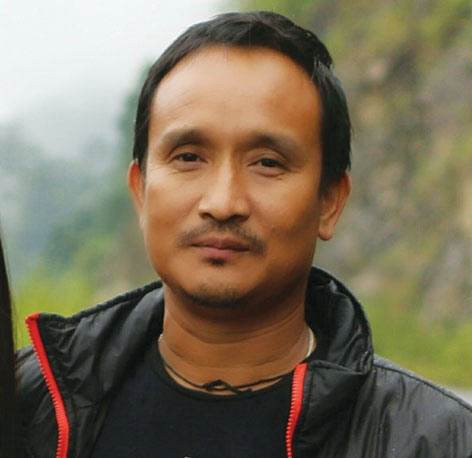 ITANAGAR, 19 Jan: Noted singer and Arunachal Pradesh Civil service officer, Vijoy Tamuk passed away in a city hospital in Guwahati, Assam on the night of 17 January after a prolonged illness.
His last rites were performed at his native village Rani in East Siang district on Wednesday.
Tamuk was posted as EAC Pangin in Siang.
He was first appointed as circle officer in 2003 and promoted to the post of EAC in 2018. He was also holding the post of PD DRDA, Siang at the time of his demise.
Tamuk started singing in his school days. Some of his popular songs are "Si:sang Mimum ah," "Leko Lupo", "Api sok Minam agom", "Sim ngo ginyo limang"," Ngok api em bisimilo min", "ngokke ayang em no", "Sina sina mimum kampo", "Ngokke nome kaling kasup (duet)", "School pori la" (duet) etc.
He had also served as CO cum BDO at Ruksin in 2014.
Tamuk was born in 1975 at Rani village. He did his schooling from GHSS, Pangin and Sille in 1992 and 1994, respectively. He obtained his master's degree in geography from then Arunachal University (Now Rajiv Gandhi University) in 2000.
The Siang district administration has expressed profound grief and sorrow over the untimely demise of Tamuk and offered heartfelt condolence to the bereaved family members.
The officers and staff of the district administration observed two minutes silence as a mark of respect to late Tamuk.
"He was a sincere and efficient officer. His untimely demise has left a vacuum in the district administration and his work will also be missed by the government and the public of the area," said Siang DC Atul Tayeng.
"Tamuk was a very sincere and hard working civil servant and discharged his assigned duties in various capacities sensibly and with utmost dedication," the Confederation of Service Association of Arunachal (CoSAAP) said in a condolence message to the bereaved family members.
"His sudden demise has created a vacuum in the state administration and in the field of music, which will be difficult to fill," the CoSAAP said.
CoSAAP president Pate Marik, on behalf of the state government employees of the state, conveyed deepest sense of condolences to the bereaved families and prayed to the almighty to bestow courage and strength to the bereaved family to withstand the tragedy.
Meanwhile, the CoSAAP appealed to the state government/ personnel department and Siang district administration to provide immediate death-related relief to the bereaved family members and appoint an eligible member of the family to a job in government service on compassionate ground.
All Arunachal Pradesh Students' Union (AAPSU) has also deeply mourned the untimely demise of late Tamuk.
"In his death, Arunachal has lost a prolific civil service officer who had many years to serve the society," it said in a message.
"Tamuk was a versatile personality. Apart from being an able administrator, he was a great singer and sportsman. His many songs will continue to reverberate and mesmerize generations," the union said.
The administrative staff of Ruksin subdivision also deeply mourned the untimely demise of Tamuk and prayed for eternal peace of the departed soul.