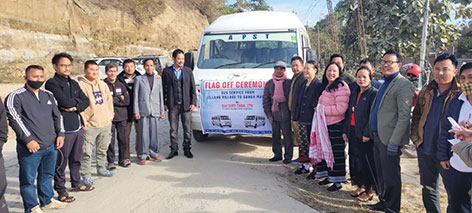 ITANAGAR, 19 Jan: Batt-Ganga ZPM Taro Tagia on Wednesday flagged-off a bus service that will ply between Jollang and Ganga market.
Tagia, addressing the gathering on the occasion, said that the Arunachal Pradesh State Transport Services (APSTS) has provided the bus service and will ferry passengers on a daily basis from Jollang to Ganga market to cater to the needs of the growing population and students studying in
various educational institutions located in the area.
Also, he urged the locals of Jollang panchayat and locality to keep the vehicle clean and not to cause any damage.
Jollang Panchayat GPC Tana Taho Tara said the start of the bus service was one of the long-felt demands of the people of the area, and expressed his hope that the start of the bus service will immensely benefit the locals.
PRI leaders, senior citizens, and locals were present on the occasion.