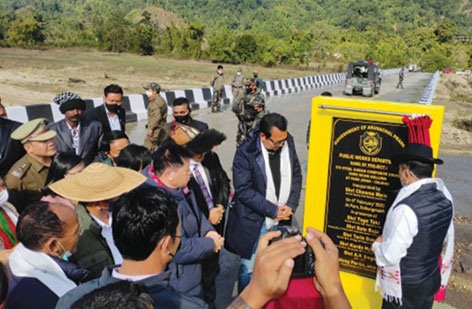 DCM calls for eliminating bad practices, rituals
RAGA, 6 Feb: Boori Boot Yullo, one of the major festivals of the Nyishi community, was celebrated across Kamle district with traditional fanfare.
Joining the celebration in Bomte village in Dollungmukh, Deputy Chief Minister Chowna Mein appealed to the people to do away with practices and rituals that are harmful to the society. At the same time, he urged them to maintain their age-old good practices and rituals handed down by their ancestors.
"I am proud of the unique, diverse and colourful cultural and traditional festivals of our state from Tawang to Longding district," the DCM said.
Mein praised the people of the state for maintaining brotherhood even though there are hundreds of ethnic groups within the same major tribes with slight variations in dialectic voices and wearing of traditional attires and costumes.
"The festivals of Arunachal are more or less celebrated by all the tribes for the same purpose of socio-cultural, socioeconomic and socio-religious development of the people, and to maintain harmony with Mother Nature," he said.
"The evolutionary development of our traditional and cultural activities should go on in tandem with
other modern developmental activities of the government, like construction of roads and other infrastructures," the DCM said, and appealed to the people to refrain from obstructing developmental activities.
Agriculture Minister Tage Taki said that "Boori Boot Yullo being a tribal festival is related to praising and offering to god for bumper harvest, abundance of domestic animals and wellbeing of humankind."
Taki advised the people to take advantage of the state government's Atmanirbhar Krishi Yojana and Atmanirbhar Bagwani Yojana, and to become self-reliant.
Raga MLA Tarin Dakpe and Kamle ZPC Biri Santi Nido also spoke.
Earlier, the DCM inaugurated a steel girder suspension bridge over the Dollung river, the augmentation water supply tank under the JJM in Paro, and a PMGSY RCC bridge over the Paro river, and dedicated a 33×11 kv power substation to the people of Dollungmukh. (DIPRO)