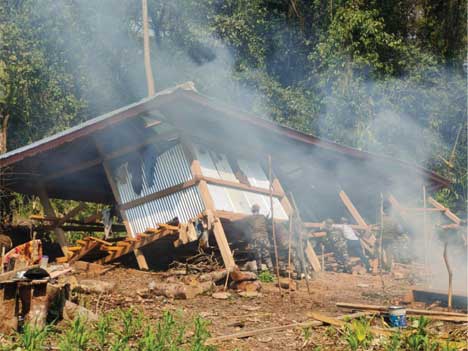 NAMDAPHA, 12 Mar: Seven houses constructed illegally within the 40 mile area of the Namdapha National Park (NNP) & Tiger Reserve were dismantled on Saturday as part of the third phase of the ongoing eviction drive to free the park from illegal settlements.
The eviction was carried out after the expiry of the eviction notice that had been issued on 10 March. A team comprising Field Director Aduk Paron, Gandhigram Wildlife Range's Range Forest Officer Son Yowa Hade and field staffers dismantled and removed the illegal structures.
The authorities of the NNP and the tiger reserve said that, since the construction work on the Miao-Vijaynagar road began, it is observed that new dwellings have started mushrooming near the road.
The authorities said that it would not tolerate any unauthorised structures within the world-famous area.