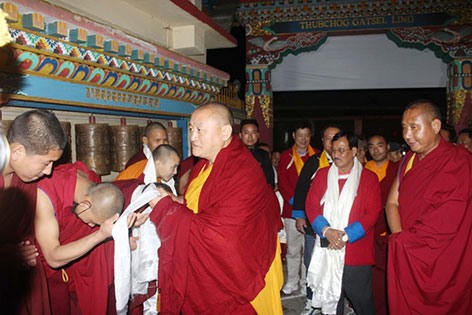 BOMDILA, 13 Apr: Padma Shri awardee, the 12th Guru Tulku Rinpoche was accorded a warm welcome here in West Kameng district upon his return from Delhi on Wednesday.
West Kameng Deputy Commissioner (in-charge) Sang Khandu led the people and the followers in receiving the spiritual leader.
Rinpoche was awarded Padma Shri for spiritualism. He received the award from the President of India on 28 March.
Rinpoche was also given rousing welcome on his way to Bomdila at Balemu, Kalaktang, Tenzingaon, Jigaon, Shergaon and Rupa.
Kalaktang MLA  Dorjee Wangdi Kharma, Bomdila MLA Dongru Siongju, Monpa Mimang Tsokpa president Dorjee Phuntso, Bomdila Buddhist Society president  Ledo Thungon accompanied  Guru Rinpoche.