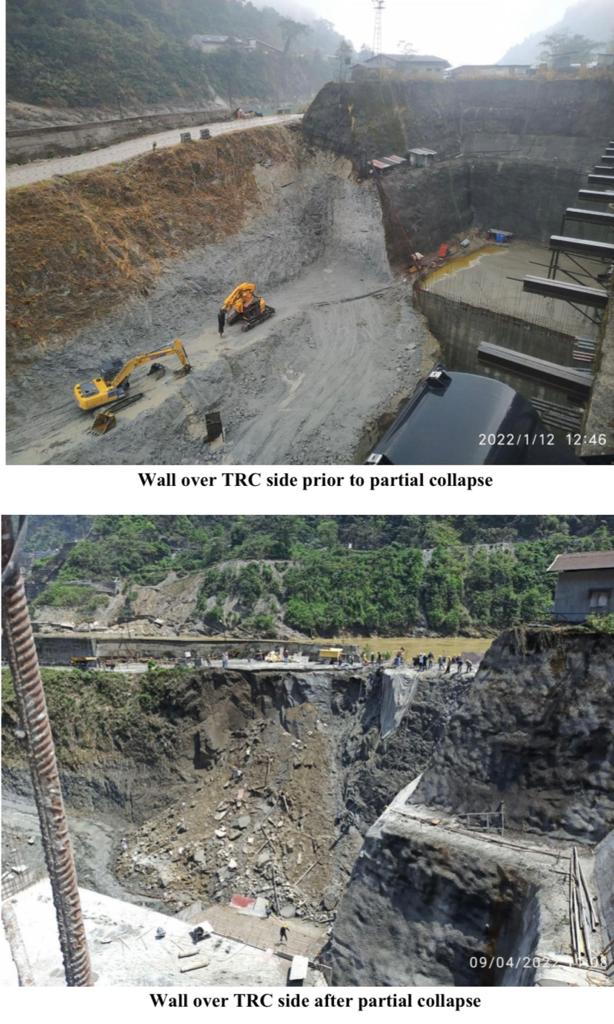 [ Tongam Rina ]
ITANAGAR, 13 May: The Central Electric Authority (CEA) has asked the developer of the Subansiri Lower Hydroelectric Project (SLHEP), NHPC Ltd, to improve its construction safety measures, including reassessment of slope stability of surrounding mountains, strength of the protection wall, and workers' safety.
A team consisting of HPPI Division Director Balwan Kumar and HPM Division Deputy Director Faraz, which was on a site visit to review the physical progress of various works for the project, has suggested that reassessment of the impact of river diversion through diversion tunnel (DT) on the slope stability of surrounding mountains may be carried out by the NHPC.
In its report, it said that, due to "left bank slide earlier, one of the diversion tunnels had got blocked and currently, only four DTs are diverting the river. The continuous water flow through diversion for such a long time in the case of Subansiri Lower HEP might have the effect of eroding its walls."
The diversion tunnels are temporary tunnels to divert the water of the river during construction. These are on the left bank in Assam.
The latest incident is in contradiction to the MoEFCC's misleading claim in its June 2019 letter, in which it had said that there was no significant instability.
"The studies carried out in the thickly forested Lower Subansiri HEP reservoir indicate that the area is free from any major active landslide problem and no significant instability condition exists in the immediate vicinity of the river," the MoEFCC had written to the NHPC.
Meanwhile, the powerhouse protection wall had collapsed in 1 April because of the tail race channel construction activities of Units 1 and 2. The 2,000 mw SLHEP is divided into eight units of 250 mw each.
Tail race channels, through which the water after passing through turbines will be released back into river, are on the right bank of the river in Arunachal Pradesh.
Following the collapse of the wall, the CEA team advised that the adequacy of powerhouse protection wall's strength to bear maximum water pressure during monsoons be "vetted by a specialised agency before the coming monsoons."
The two units were supposed to be completed by August 2022. However, the work will pick pace only after monsoon, in November, so there is uncertainty about the timing, and fear that the quality of work will be compromised in chasing the deadline.
It also suggested that the contractors submit the details of the accidents mentioned in their monthly accident reports.
Further, it asked the NHPC to engage adequate resources for ensuring safety of the workers in the project premises. The CEA had noted that a few workers were without safety helmets and safety harnesses.
The team, citing audit report, said that safety committee meetings were not held periodically in the recent past.